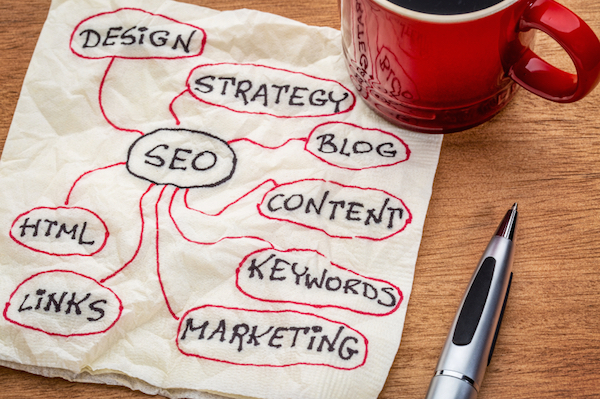 Way back in the digital stone age of 2010, search engine optimization was relatively simple. If you wanted to rank highly for a keyword, you simply stuffed that keyword into your site as much as you could, trusting that Google's relatively straightforward PageRank algorithm would pick up that keyword and adjust your ranking.
Then came Panda, and everything changed.
Also, we just realized how weird that sentence must seem to someone not familiar with SEO.
In what would come to be a turning point in search engine optimization, Google began penalizing websites that seemed to manipulate their content and code to improve their ranking. Fast-forward to 2015, and the practice looks almost nothing like it did only five years ago.
The Rise of Content
If you're looking for the details of just what has changed in SEO since that fateful first Panda algorithm update in 2011, keep reading. But before we go into those details, it's worth emphasizing the overarching goal of Google and other search engines during that timeline: encouraging user friendliness and quality content.
In fact, we could argue that every single algorithm update by Google (and there have been many in the last five years) was designed with that overarching goal in mind. And that makes perfect sense: Google, like other forward-thinking corporations, know that the only way to sustain their dominating 64% market share among search engines is to keep their users happy.
Put simply, when a user types a keyword into the search engine, they expect the most relevant content possible to pop up at a moment's notice when that doesn't happen, they'll look for a search engine that can deliver more relevant results.
So before reading on, keep in mind that the motivation behind all of the below SEO developments in recent years is just that. In continuing to push and encourage quality content, Google (and other search engines) have created an SEO environment that is no longer formulaic, but artful.
In other words, measuring just how relevant your content is more difficult than simply measuring your keyword density. Measuring the amount of quality backlinks is not as easy as simply counting up all of your site's backlinks. SEO has and continues to turn from a science into an art.
The Demise of Black Hats
But enough about overarching goals—let's get into the specifics! Take another look at the algorithm updates we linked above, and you will find another theme that threads through each update: the hunt against black hat SEO tactics.
Curiously, "black hat" is actually used less often today than it was a few years ago (thanks at least in part to those updates), so allow us to explain: In SEO, 'black hat tactics' refer to unethical methods to move your page up the search engine rankings without increasing its relevance. We already mentioned one such tactic above: keyword stuffing. Today, overstuffing your website with keywords can actually hurt your rankings.
Another commonly known fact about rankings has been that the more external websites link to your site, the higher your individual pages will rank on relevant searches. Black hat marketers took that fact as an invitation to unethically grow their backlinks, even going to the point of purchasing links online. But beginning with its 2012 Penguin update, Google actually began penalizing websites for backlinks that didn't originate from reputable sources.
Today, backlinks will only benefit you if they come from sites that Google deems reputable, and "unnatural" links may actually hurt your rankings.
Other formerly common black hat tactics, from invisible text and redirects to cloaking and duplicate content, are also no longer effective and should be avoided at all costs. In the end, a simple mantra holds true: if you write your content with quality rather than specific SEO techniques in mind, you have a higher chance of SEO results.
Local Matters
In 2014, Google introduced a major algorithm update that would change the visibility of small businesses forever. Dubbed "Pigeon," the update began to prioritize local companies that had listed an address through Google's internal system in search results from that area.
The effects of Pigeon have been wide-ranging. In an increasingly digital marketing environment, space and location suddenly began to matter again, as businesses saw their websites become competitive with national alternatives on a local scale. Google has since expanded the change to Canada and the United Kingdom, suggesting that it will keep supporting local businesses in their quest to compete for web visitors and customers.
In 2010 (or even in 2013), it would have been unheard of for a local business to keep pace with its national competitors in Google Maps or Search results. Thanks to Google's Pigeon update, that exposure is now possible - and waiting to be explored.
Quality over Quantity
Another relatively recent change in Google's approach to determining relevance is emphasizing the quality of websites over the quantity of their pages.
Just a few years ago, the search engine would see a sprawling website as an indication of its relevance, and increase its ranking score. But such an approach led to a plethora of websites with countless "thin" pages that incorporated little value to speak of. So Google once again shifted gears, and now ranks pages more highly that are full of relevant content, which the search engine determines based on interaction rates and the time an average visitor spends on each page. This shift has actually led to many experts suggesting the deletion of old pages that get little to no current traffic.
Another example of this express emphasis on quality over quantity is the fact that Google now looks favorably upon websites that publish new content on a regular basis. Each time you publish a new page, blog post or otherwise, the search engine will crawl your site to determine if your rankings on specific keywords can be adjusted upwards. That (among other benefits) is a major reason why business blogging continues to increase in popularity.
Emphasizing Mobile
Remember "Mobilegeddon"? The April 2015 Google algorithm update sent marketers across the globe into a tizzy, and is symptomatic of another recent SEO development: the importance of mobile-friendliness.
"Mobilegeddon" was designed specifically to rank mobile-friendly, responsive websites more highly on mobile searches, which was seemingly a direct response to new data that showed mobile internet usage surpassing its desktop counterpart for the first time this past January. In the name of user-friendliness, Google's proactive nature meant adjusting its algorithm so that users on mobile devices would not land on websites that couldn't adjust to their smaller screens.
Looking Forward
The "Mobilegeddon" update remains the latest development in search engine optimization, suggesting the rising importance of mobile-friendliness in your web design and content creation, but it's far from the only one. As user behavior continues to evolve, SEO will continue to change right along with it in its quest to achieve its ultimate goal: user satisfaction and the importance of quality content.
Already experts are predicting voice search and direct answers to become major forces in SEO in 2016 and beyond, which would—once again—require adjustments from marketers to ensure their websites will remain relevant and retain search traffic. But isn't that the fun in search engine optimization? As the field continues to evolve from a science into an art, taking on the challenge of ensuring a high ranking for your site can be daunting, but rewarding.