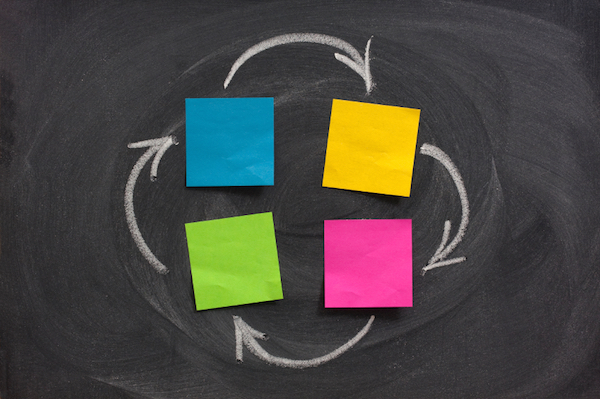 For many CMOs and other marketing professionals, creating original content for your inbound marketing campaign is likely a top goal. And it should be—it has been proven time and time again that both search engines and human site visitors favor fresh, frequent material. But maybe you're starting to realize that as your business starts to grow, you have less time to create all-new content on a daily basis.
Perhaps you've tried curating content. That can work in certain contexts using the 10-4-1 concept. For inbound marketing campaigns, though, you probably want as much original content as you can if you're just getting your business off the ground. By using your own content, you're able to quickly prove clout in your industry while also establishing trust.
An excellent way to keep original content coming with your own brand is to repurpose it in ways you'll find surprisingly fresh. Repurposing content for inbound marketing doesn't have to look like a noticeable retread, because many methods of repurposing make prior content look like something completely different.
You'd be surprised what you can do when you use some ingenuity. The important thing is to start looking at the content you've already created and think of other ways you can use it in different media.
Repurpose Your Blog Posts
No doubt you're having trouble lately keeping original blogging going when your days get filled to the rim with other activities. While you possibly wrote many of your prior blogs in the mornings, being busy means morning blogging sessions are impossible. So rather than lag on blogs, what should you do to keep new content coming?
Blogs are one of the easiest things to repurpose since you already have an idea written out in textual form, almost like a script. Many businesses repurpose blogs into guides that tell visitors how to do something specific in your industry.
Or, you could take an article and turn it into a video. When you add visuals to what you've already written about, it becomes something entirely different that only enhances information you write about regularly.
Another popular method of repurposing blog posts is to analyze which of your older posts has been the most successful, then refresh and repost it with updated information to continue the trend. The HubSpot blog has great tips on exactly how to do accomplish this.
Repurposing Live Events
Webinars are a growing part of inbound marketing that only happen once and sometimes don't get archived. If you eventually remove your webinar footage, repurpose your segment into a video tutorial. It's likely you did some kind of demonstration during the show that you can re-do for a video of your own. Assuming you had a script you followed for the live event, you can say the same lines in your new video to save time having to write something new.
Of course, with the right planning ahead of time, you can simply make sure that you're recording and saving your webinars as they are taking place. Placing an archive of these behind a form on a landing page is a great way to convert and de-anonymize visitors interested in your content.
You may also consider structuring your webinars in the form of an e-mail marketing campaign. Subscribers who fill out a form (again, de-anonymizing them for future communications) will receive a series of e-mails over a set period of time with links to the archived videos, keeping them engaged and aware of your brand.
Repurposing More Visual Content
Aside from text and video assets, you may be creating visual content that can also be used in a variety of different ways. Remember that visual content usually performs better in many cases, especially in the context of social media.
Any slideshows you use for inbound marketing can go into an infographic where you combine visuals with text for better informational consolidation. The same goes for taking all the imagery you use in blog posts and using them on social media, namely Pinterest.
Don't underestimate the power of social media in your inbound marketing, including using Instagram for repurposing photos you use in other marketing content. You can also upload your slideshows and infographics onto sites like Slideshare to widen your scope of distribution.
Of course, the ways in which you repurpose your content will largely depend on what feels right and works with your established company voice. Always try to keep in mind where your audience hangs out and adjust accordingly so you're not wasting time repurposing content in spaces with no potential for lead generation. In combination with the new content you should still be creating, you can increase the impact your marketing has on your business and reach corners of the Web you may not have considered before.