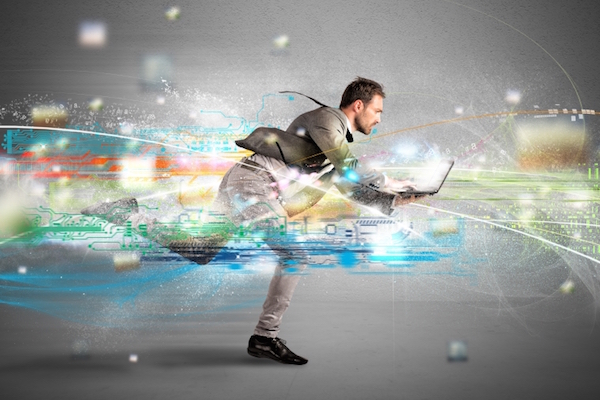 When you start to explore the intricacies of online marketing, one word will keep popping up: speed. From page load speed to the speed in which you follow up with your leads, this single word may just be the single biggest indicator for your marketing success.
The bottom line: Speed equals results with online marketing, in more ways than one.
Speed Matters on Social Media

When potential customers encounter your brand's online presence for the first time, they're likely to be in the awareness phase. Whether they're looking to become customers in the near future or not, chances are you're not the only company in your industry they are researching.
But there is one aspect that allows you to stand apart from your competitors: your speed.
That's especially true on social media, a medium in which users have come to expect instant gratification. Waiting for hours—or even days—to respond to a question about your product or service may mean that your audience jumps off to a competitor that answers their question more quickly.
In fact, that's precisely the reason Facebook recently made a small but significant change in the way it gives feedback to business page admins. Pages are now rewarded if they answer at least 90% of inquiries within the first 5 minutes, labeling them as particularly responsive businesses.
Facebook knows: speed matters. Of course, that mantra is not exclusive to social media.
Speed Matters on Your Website

It seems obvious to state that the faster a website loads, the more likely it is to succeed. But do you know just how much it matters?
Predictably, users abandon your page the longer it takes your load. If your website takes 4 seconds, you can already count on a quarter of your audience not being there when the load is finished. That in itself has a significant impact on your bottom line, but it doesn't stop there.
As it turns out, Google knows about the importance of site load speed as well. That's why the search engine takes this factor into account, ranking websites in part based on their loading speed.
And the importance of your loading speed goes even further: Google's John Mueller is on the record as stating that if your page takes more than 2 seconds to load, Google's web crawlers may not even bother scanning it for relevant content.
In page loading speed, every second counts. Speed quite literally equals results.
Speed Matters for New Leads

How quickly do you follow up with your web inquiries? As it turns out, the answer to that question can make a significant difference in your online marketing success.
The standard for following up with your leads after their first inquiry is relatively low: HubSpot found that the average company takes over 46 hours to get in touch with their inquiries. That's puzzling, especially considering just how much a speedy response matters. In a hallmark study, the Harvard Business Review found that following up within one hour increases the likelihood of a future transaction from that lead by no less than 700%.
That's worth reiterating: Speedy follow-ups with your leads after their first filled-out form means they'll be seven times more likely to become customers. Clearly, speed matters immensely in following up.
To keep repeating that speed equals results in online marketing may seem vague as an isolated statement. But if you take into account just how many areas of your online marketing strategy are affected by speed (or the lack thereof), it's easier to understand just why your efforts should always prioritize and never forget about speed— from a visitor's first contact with your brand to following up with your leads.