Centralized, decoupled content management allows for exciting and cutting-edge front-end experiences.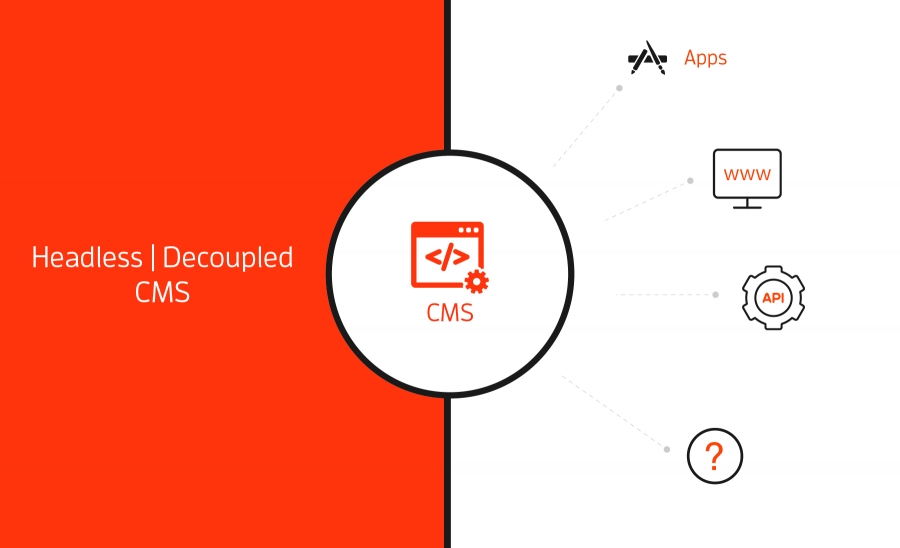 One of the biggest benefits of a decoupled, headless CMS is the ability to create complex, custom front-end experiences for customers. Removing the limitations of off-the-shelf software, a headless CMS architecture will allow you to exert control over your content while focusing on the user-facing aspects of your business.
What is a decoupled CMS?
Good question. Basically, a decoupled CMS is a system to control content that is separated from the display layer, or the front-end user experience. Off-the-shelf solutions, ranging from WordPress or Drupal all the way to enterprise-level CMS's focus on content management in addition to an attached, integrated display layer. In the case of WordPress, this is a "Theme". Decoupled CMS solutions break the content management, or the "wp-admin" we have all come to know, from the templates thus allowing separation of powers.
Why choose a decoupled CMS?
It may not make a lot of sense at first, but most complex web applications today would benefit greatly from a decoupled CMS. Here are a few reasons why:
Multi-Channel Content Distribution
Content today is not just consumed on the web. It's shared with other providers, published via APIs and other data feeds. It is used to populate mobile apps, or other platforms. And of course, yes, it too can be on the web as usual. Decoupled CMS systems allow for management of content across all of these mediums. By centralizing content management and distributing the content in a universal format, your entire ecosystem can be managed from a single interface.
Security
Security has long been a concern for CMS's. The most popular CMS in the world right now is WordPress. WordPress has a horrendous history in terms of security, with over 4500 known hacks as of 2016. How does a decoupled CMS help? Well, simply enough... You can hide it! Decoupled CMS's can be hidden in any number of ways since they are separated from the display layers. This enables the adminstrators to rest assured that their system is secure and protected against the millions of anonymous attacks happening each month.
Longer Lifespan
A decoupled CMS can live a much longer lifespan versus an integrated system. For one, its because of the massive amount of security upgrades. WordPress as an example has 15 updates per year. With each update the software is collecting technical debt, and over time it will need to be overhauled. At NPG, we have built decoupled CMS systems as far back as 2008 that are still running today, in 2016 without any massive core updates or upgrades.
A Return to Being Design Centric
Amen! The era of WordPress and Drupal, in addition to the expensive and bloated enterprise CMS, has also ushered in a time of cookie-cutter website design. Yes, the web is inundated with sameness. Decoupled CMS installations can now again let front-end designers and developers craft custom, interactive experiences. The future of the web, the next iteration of user interface and experience, will come from the advent of decoupled content management.
Is a Headless or Decoupled CMS right for you?
We've been custom developing decoupled CMS systems since 2001 - before it was even a thing. If you are building a complex web application, a multi-platform service or experience, or simply interested in a long-term investment - then a decoupled CMS is the right approach for you.
It's simple
"A content management system adds, edits and deletes stuff. Why overcomplicate it?" -Our CEO
Our Other Web, Mobile, & App Development Services