In last week's blog post, I touched upon a topic that has been on my list to write about for quite some time; one that is so compelling, it deserves a post all to itself.
The topic is this: What does the term "CMS" really mean?
A cursory Google search for "CMS" produces results that mostly skew in the direction of website management. However, true "content management" is a much deeper concept than simply managing a website.
It involves the management of content in a structured, organized way with ability to distribute content to multiple channels. It may include tools to enable content to be produced and analyzed within one platform. It also means content that is more than just text in HTML form.
The definition of a CMS can vary greatly from organization to organization. But the industry has taken advantage of the acronym and applied it to a limited set of functions, a definition that minimizes the importance and capabilities of true content management solutions.
A Quick Vernacular Primer
There are a variety of acronyms being used today to describe essentially the same set of tools. Among the most popular are:
CMS
"Content Management System", as I described earlier, is the catch-all term for systems that are powering most websites, managing most internal content, and distributing to different destinations. This blanket term can lead to much confusion—mostly for those procuring such software—as it leads to the noisiest platforms garnering the most attention even if they are, in certain scenarios, the worst fit.
For example: The industry is doing a pretty good job of convincing almost all website owners that WordPress can get the job done for them—that is, any job. However, this platform has many limitations and security concerns that are essential to vet before committing. The best bet for consumers of these platforms is to search for more specific terms such as those listed below to find a solution that more closely meets their requirements.
WCMS (or WCM)
"Web Content Management System" is a platform designed purely for the distribution of website content. Most platforms that populate search results for "CMS" fall into this category. That includes WordPress, Drupal, SiteCore, Joomla, and any software originally developed for web content delivery.
These platforms are typically of an architecture wherein the delivery or distribution of content is tightly integrated with the administrative capabilities. This is the classic coupled architecture.
It is our believe that decoupling the administrative portal from the front-end user experience will allow for better a user experience, longer software installation lifespans, and safer, more secure management. The biggest WCMS platforms today are, as I mentioned, mostly integrated, which means that in the future, they will have to decide what path they choose to take in terms of architecture.
CAAS
"Content as a Service" is a unique new product that is being introduced. Services like Contentful are offering hosted, SaaS-based content management. While this concept is still in its infancy, it is an interesting way to start promoting the idea of headless/decoupled CMS platforms.
Basically, you utilize these services to organize content into a taxonomy that you define. From there, you access the data via a rich API that can be integrated into a front-end experience.
As I said, these services are young, but the concept is sound. The thing to be afraid of is what happens if one of these providers ceases to exist. That insecurity could result in a development nightmare later.
ECM
"Enterprise Content Management" is a term many providers have been using to describe internal content management such as documents and other content that are related to a business's internal operations processes.
In one way, this is the most dissimilar term to the others being defined here. But in another way, it shows that "content management" really does mean many different things to different people. Another applicable term would be DMS, or document management system.
WEM (or WXM)
"Web Experience Management" is a term that has been around for 7 or 8 years now, and was an attempt to tie together web content management with a more object-oriented approach or philosophy about what content is.
This term came about around the time that "Web 2.0" was introduced, and for many organizations, it became a buzzword. My opinion is that this is a dying definition, but the theories behind it are correct:
Content is an object to be used in a variety of ways.
Interfaces should be simple.
The Web is now multi-device, not just PC- or Mac-centric.
One side note to our little glossary: Many terms are introduced by companies looking to set their products apart. For example, WXM was introduced by one specific player, and it became well-known. In the end, there isn't much that distinguishes a WXM from a WCMS these days. It's important to compare these platforms not by name, but by capability.
Navigating Muddy Waters
All of these terms make the situation confusing, especially if you are looking to procure a platform or service provider to help with your project.
What solution will work for you? That depends on your needs and requirements.
Every instance is always different, and that is where the CMS industry is doing customers a massive disservice—especially when your CMS serves as the center of your entire organization.
The essential steps you must take start with evaluating each platform, as mentioned above, by its capabilities, not by its name. Then you need to really analyze what your key content is. The answer to that question is different for everyone, but every company has a content type that sets them apart.
For example: If you are a distributor of power tools, your product list is content. If you are a media company that specializes in video, then the video is your primary piece of content. Obviously, if you run a blog, the posts are your core content.
For some of these examples, there are great platforms available that fill that niche and do a great job of it. I won't dispute—despite what you'd assume from previous posts—that WordPress is great for hosting a simple blog. But would it be a good platform to house an entire video production process, integrate multiple distribution channels, and scale to handle a large load of visitors? Probably not.
Case in Point
We love models here at NPG. The model below represents what we feel is a well-architected content management model aimed at a media company that produces video content.
In their case, video is the primary piece of content being produced. It is managed in the CMS, which also serves as a distribution hub. Notice how content is funneled to social networks for distribution, then to a WCMS platform for populating a website? The website is now just one possible channel of distribution, which needs its own toolset to properly manage and display content in a thoughtful way.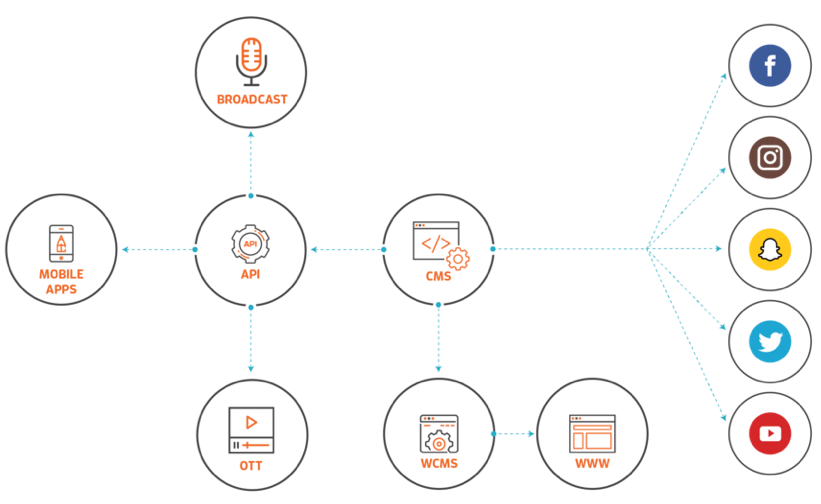 Knowing what we know based on the above definitions, the best architecture in this scenario is one where the CMS is focused on a particular use case, perhaps even developed specifically for this scenario. From there, a WCMS can be a much simpler, easier-to-use interface that translates content to a web platform.
Wrapping Up
I'm unsure if there is any other industry like the content management space. Everyone throws around terminology, either not sure what it means or with the goal to purposely confuse.
It's important that the CMS industry works client-by-client to redefine what all of these tools are and how they work. As our distribution methods get more and more complex, our systems for managing content must adapt, and we need to be more honest about the way we label things so those in charge of procuring the software know exactly what they're getting into.