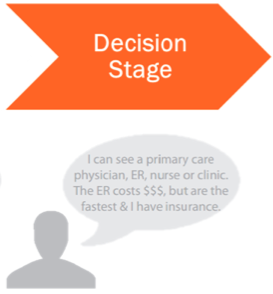 One of the core tenets of the inbound marketing philosophy is that there are several steps on a consumer's journey toward making a purchase. Once a lead has identified their problem (the awareness stage) and started looking into solutions (the consideration stage) for resolving it, they will move on to the final leg of their journey: the decision stage, during which they will pull the trigger on a purchase—or not.
Although the decision stage is at the end of this buyer's journey, it's not in any sense the end of your interaction with them. In fact, it's the most critical part of the process—your attention will be needed here the most.
Fully armed with relevant data from the previous stages, a consumer should feel well informed and ready to speak with a company representative who won't just try to close the deal, but will help them feel good about their decision. Offers at this time may be as simple as free samples, trials, or consultations, but the ultimate goal is to eliminate any and all doubts in your lead's mind that they are making the best choice.
Effective inbound marketing always keeps a buyer informed and does not push sales from the get-go. As you guide your prospect through the decision stage, don't use bait and switch tactics. Today's buyers are savvy and will not react well to being misled; after all, they have spent considerable time and energy weighing their options and have landed on you for a reason. Now is not the time to squander that goodwill.
Trials/Demonstrations
Trials and demonstrations are similar to an expert salesman's tactics in that they should always configure themselves to the customer's needs. Now that they have an idea of what they're looking for, they need to see and experience your product in action.
Look into personalized product services that help increase your conversion rates through targeted demos. You can also gather analytical information that you can use to fine tune this component of your inbound marketing campaign for the future.
Consultations
Though offering consultations doesn't involve creating content in the same way you might have for the awareness and consideration stages, this is the kind of offer that inbound marketing is built upon. It is the ultimate way to reach out to a potential customer on his or her own terms.
By taking the time to discuss their needs at length and answer their questions as they arise, you are providing personalized attention that just may be the cherry on top of the person's decision.
But how do you reflect these offerings on your website in a way that boosts conversions and helps make that all-important sell? Make sure that every element on your decision stage landing page is crystal clear and plainly states the benefit of your product or service. Use an eye-catching headline that doesn't oversell, and don't make statements or quote statistics unless you can back them up. You'll need to draw on all of the information you provided to buyers during the previous two stages of the journey and present it in a short, succinct manner that convinces customers to fill out the form.
You may notice that all these offers are free to the customer. Though there isn't any money being exchanged at this point, there is still an exchange of another sort going on. You're providing valuable information, and the consumer is giving you permission to further contact them. This is an important thing to keep in mind when you craft your landing page—the more valuable your giveaway, the more information they should provide to you to get it.
If you want to convert leads to actual sales, think like the buyer as you guide her or him through the three stages of the buyer's journey. In other words, give them the content they need, not manufactured content some cold marketer deems is important.
One thing that has not changed through the years is that the customer is still king or queen. Treat them like royalty and they'll reward you by becoming life-long customers.