We've mentioned before how much we love Trello, the free project management tool. And we're clearly not the only ones—when reviewing our analytics, we consistently find that our thoughts on Trello bring in a significant portion of our web traffic.
In the time since that last post about it, Trello spun off from Fog Creek Software with the help of a Series A funding round of $10.3 million!
Buried at the bottom of our effusive praise, we had mentioned a few areas where Trello didn't quite fit our project management needs. These included:
Limited visual space on boards, which made for difficulties in handling larger projects with more complex review/approval workflows.

Difficulties in getting an organization-wide view of tasks and user-centric views of tasks.

A lack of time estimates.
We're happy to report that these points are no longer an issue. Over the past few months, Trello has released a number of advanced search tools, as well as saved searches. This has drastically improved our ability to find cards and come up with useful ways to organize views of our organization.
And we've been busy too. We used Trello's awesome API to setup an organization-wide dashboard to help everyone set priorities and predict capacity.

Because we work on several sites at once, we needed a way to set priorities across all of our Trello boards. Now we just drag and drop cards into any order we choose and click through for a full view of each card.
We also use hashtags to encode #estimates for tasks and add them up to see how busy everyone is.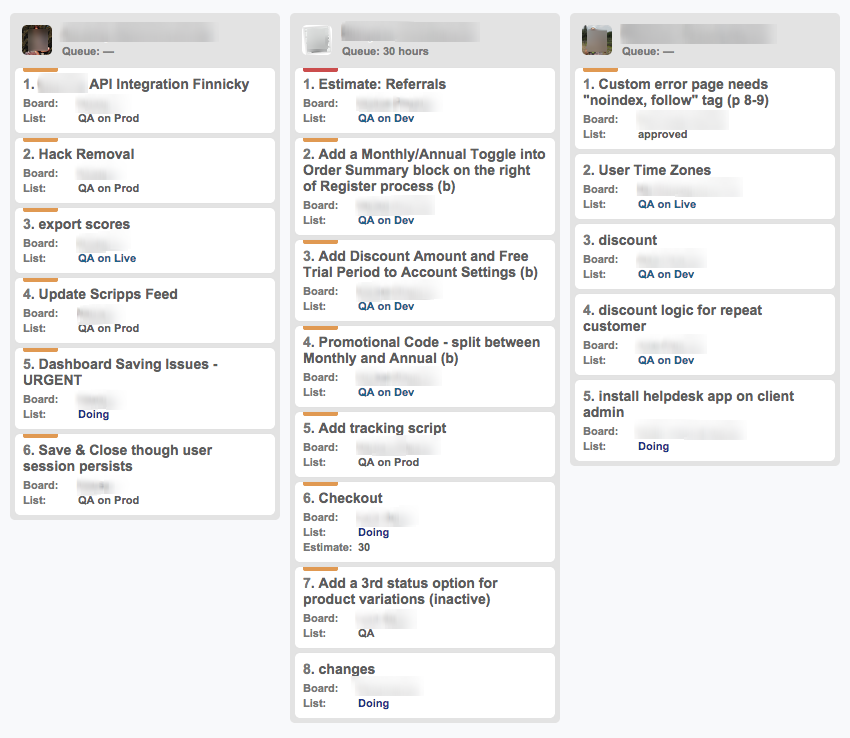 How do you use Trello? We'd love to hear your thoughts on making this awesome tool work for your organization.