We are excited to introduce a new technical support integration for NPG clients!
Our team has engineered a Help widget that appears right on your website when you are logged in as an administrator. This feature is only available to you and your team—never to customers or site visitors.
This widget provides a new gateway to communicate about tasks and issues with us, all without ever having to leave your website. When signed in, you'll see the "Help Desk" tab on the side of your public-facing website. Click this to view the full menu.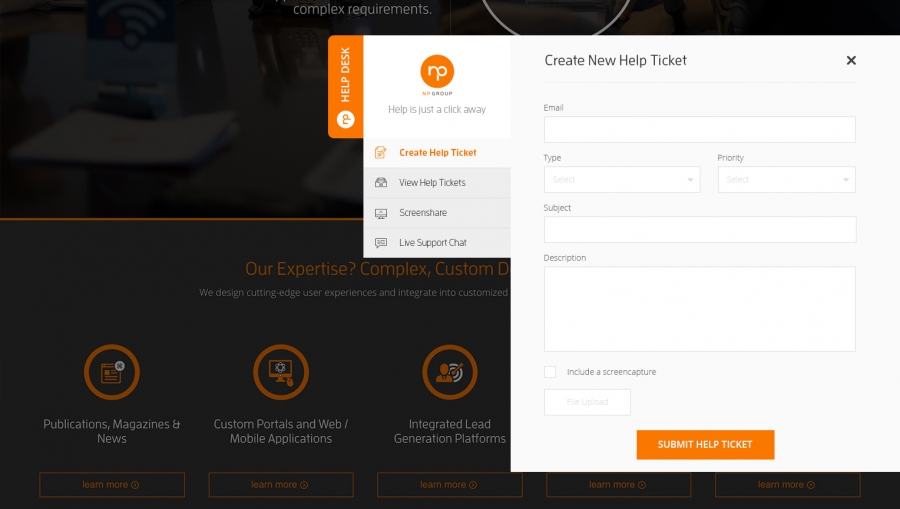 The Help widget provides a few different channels through which you can reach us:
1.Create Help Ticket
Click this to pull out a form to type in your issue and submit it to us. This creates a Help ticket immediately in our ticketing system.
2. View Help Tickets
This is a shortcut link into the NPG Help Desk. Here, you can view all of your existing tickets and update them.
3. Screenshare
When working with us, you may sometimes need to do a screenshare. Use this option to start a Zoom meeting. That will start a live web conference where we can use video, remote control, and other options to work together.
4. Live Support Chat
This option opens up a live chat window so you can instantly chat with one of our support staff.
The new NPG Help widget is as close as we can get to you without physically sitting right next to you! As always, we look forward to working together.
This feature is available to clients with an Agile Maintenance or Continuous Improvement contract. Contact us about setting up an ongoing maintenance relationship today.