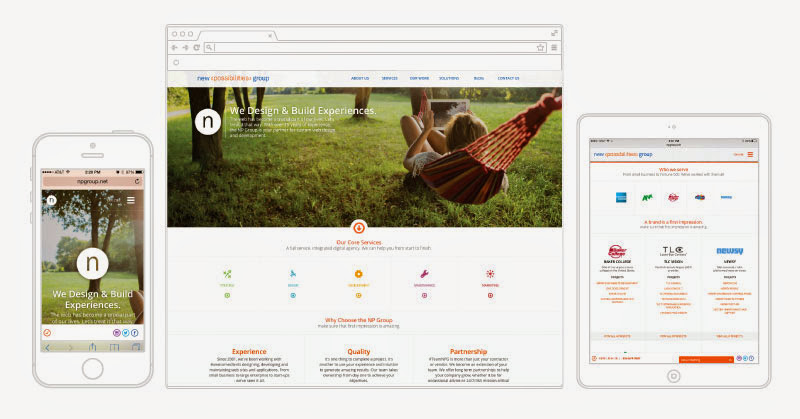 2014 was definitely a busy year, but in the best way possible. We got tons of great work done, forged new relationships with some amazing people, and learned a lot along the way.
In the spirit of keeping the momentum up, we gave our site a new look for 2015.
There's a bit more going on here than initially meets the eye. Our designers put a lot of thought into this redesign, keeping an eye on growing trends while taking creative liberties to give it our own unique flavor. Not to toot our own horn (okay, maybe just a little), the results are pretty impressive.
Here's what's new on NPGroup.net:
Easier Navigation
Making the site easier to navigate was a top priority for this redesign. By creating a consistent brand across the site, from the color scheme to the layout to the icons, we've made visiting the site a smooth and consistent experience.
Fixed Menus
We're big fans of this trend. Having a fixed menu means that the site's navigation is always in reach. And if you aren't viewing the site on mobile already, check it out there—the menu is unobtrusive, but always available.
Speaking of which…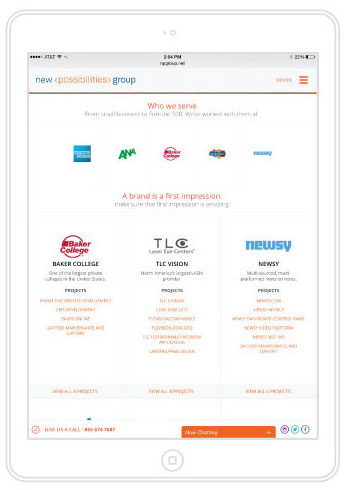 It's Mobile Friendly
Our new site is designed to perform amazingly on any browser size. With mobile browsing ticking up every day (up to nearly 25% of all browsing in 2014), we wanted to make sure the mobile experience was up to snuff.
Connect Bar
We've added a fixed bar to the bottom of the site that allows any user to chat, email, call, or connect with us on social media. Keeping these elements always in view improves the UI greatly, and it makes getting in touch with us way easier—which we encourage! Plus, it's better than stuffing everything in the navigation, especially on mobile.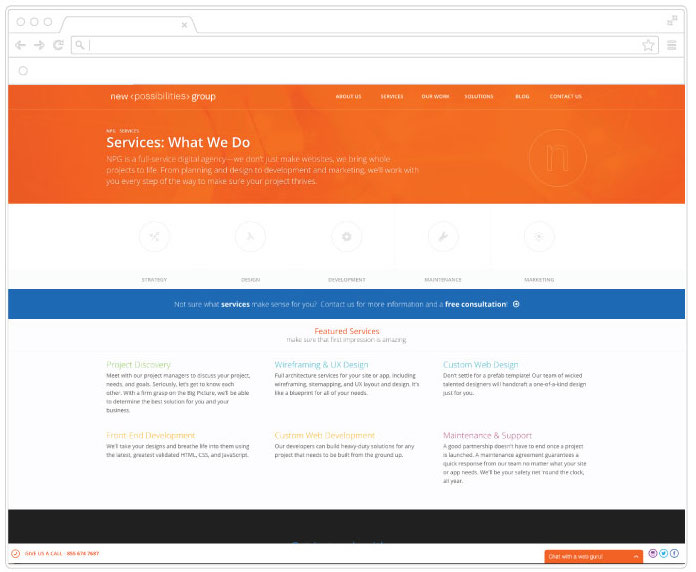 Short And Sweet Copy
Gone are the days of huge walls of text. Visiting a website shouldn't feel like you're doing a required reading assignment for school. For our site, we wanted to get our message across in one or two sentences per item, with the option to drill down for more information if one is so inclined. Hemingway would be proud.
Client Showcase
Our clients are our top priority. We love the new ones, and we love it even more when existing ones keep coming back to do more projects. That's why we've spruced up our portfolio page—not only to shine a bright light on our #awesomeclients, but to highlight all of the different projects we've worked on for them over the years.
So what do you think of our new site? We'd love your feedback in the comments. And if you have any questions or just want to say hello, feel free to fill out the contact form at the bottom of any page.
Happy New Year!